Arts & Health Coordination Centre in Finland
Taikusydän is a multisectoral coordination centre and national network for arts, culture and wellbeing in Finland. We work towards connecting the people working  across the growing and diverse field of arts & health. The objective of Taikusydän is to make arts and culture a permanent part of wellbeing services and health and wellbeing promotion in Finland. Taikusydän Coordination Centre was launched in the end of 2015.
Taikusydän in a nutshell:
Collects and delivers knowledge about good practices, publications, funding possibilities, projects and research.
Informs and promotes multiprofessional collaboration at all levels between artists, arts and health professionals, health and social care professionals, educators, academics, policy-makers and public officers.
Aims to strengthen the cooperation within academic research in the field of arts, health and wellbeing and the practical work that is executed in the various projects to develop evidence-based practice.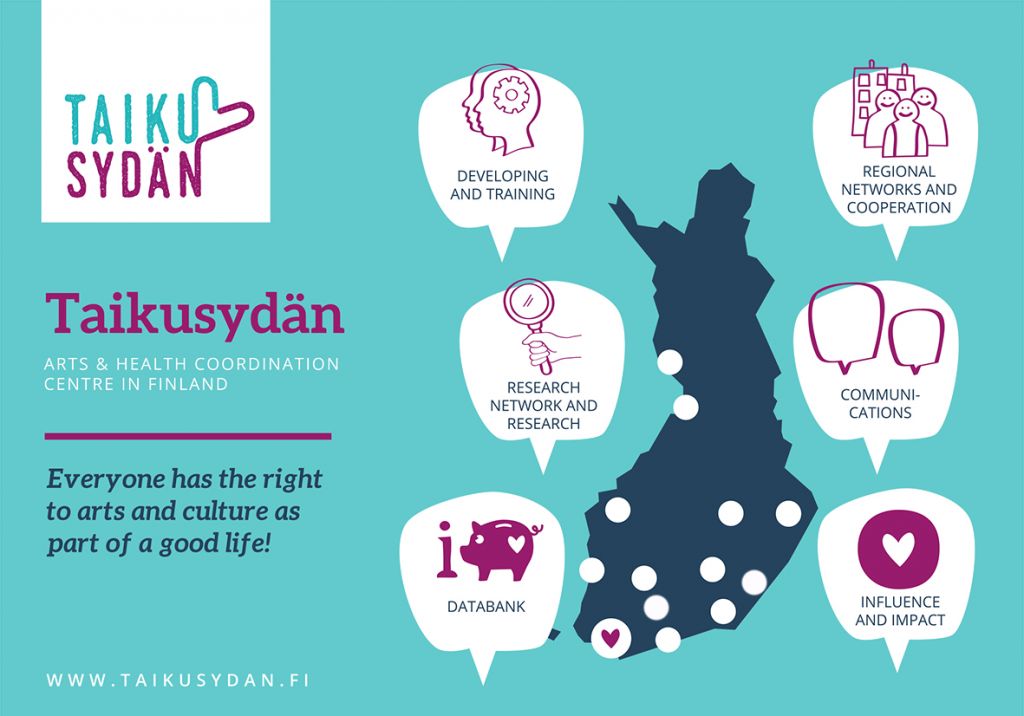 ---
The main activities of Taikusydän:
Compile and maintain a databank of information, publications, practices, projects, concepts, education and sound operational models related to the impact of arts and culture on wellbeing.
Communicate and deliver information on news, research, projects and operators by, for example, publishing a monthly newsletter and being active on social media.
Coordinate a national network of researchers, foster interdisciplinary discussions, and disseminate information about the arts & health research.
Promote regional, national and Nordic cooperation.
Bring arts, health and social care sectors together and build cooperation in order to distribute sound practices and develop new operational and funding models.
Act as a development partner in various projects and work groups, organise seminars and workshops and develop the activities of an educator network related to the field of creative well-being.
Influence decision-making and create greater understanding of arts and health.
Taikusydän operates nationally through 14 regional networks in the area of 16 counties. The total number of counties in Finland is 18.
The objective of Taikusydän is to integrate the arts and culture into mainstream health and well-being strategies and policy making. In addition, Taikusydän focuses on improving the working possibilities of professional artists and art institutions providing opportunities for artists to develop their practice.
Taikusydän is also one of the founding members of Culture and Well-being Pool. 
Taikusydän promotes proposals for actions suggested in the closing report of the national Art and Culture for Well-being programme 2010–2014.
---
Partners
The Taikusydän project is administrated by Turku University of Applied Sciences. During the years, it has been funded by the City of Turku, Arts Promotion Centre Finland, the University of Turku, City of Tampere and University of Tampere. Taikusydän works with many different actors in regional, national and international levels.
---
Arts & Health Research Network
The Finnish Arts & Health Research Network has been founded as part of the Taikusydän initiative. The research network regularly arranges research meetings, workshops and seminars as well as maintains an expert database. During 2018 Taikusydän took an initiative to create a network of Nordic researches together with Danish, Norwegian and Swedish collaborators. Read more here.
---
Contact:
Anna-Mari Rosenlöf
Special Advisor
Arts Academy at Turku University of Applied Sciences
Puhelin:
+358 50 598 5257
Liisa Laitinen
Adviser, Arts & Health / Research Network
Arts Academy at Turku University of Applied Sciences
Picture: Pisamaart / Mari Villanen.
Last update 6.5.2022.