Taikusydän is a multisectoral coordination and communication centre for activities and research among the field of arts, culture and wellbeing in Finland. The objective of Taikusydän is to make arts and culture a permanent part of wellbeing services in Finland. Taikusydän promotes proposals for actions suggested in the closing report of the national Art and Culture for Well-being programme 2010–2014.
Taikusydän:
Collects and delivers knowledge about good practices, models of operation, projects and research.
Informs and promotes multiprofessional networking between experts in the field of arts, culture and wellbeing.
Aims to strengthen the cooperation within academic research in the field of arts, health and wellbeing and the practical work that is executed in the various projects to develop evidence-based practice.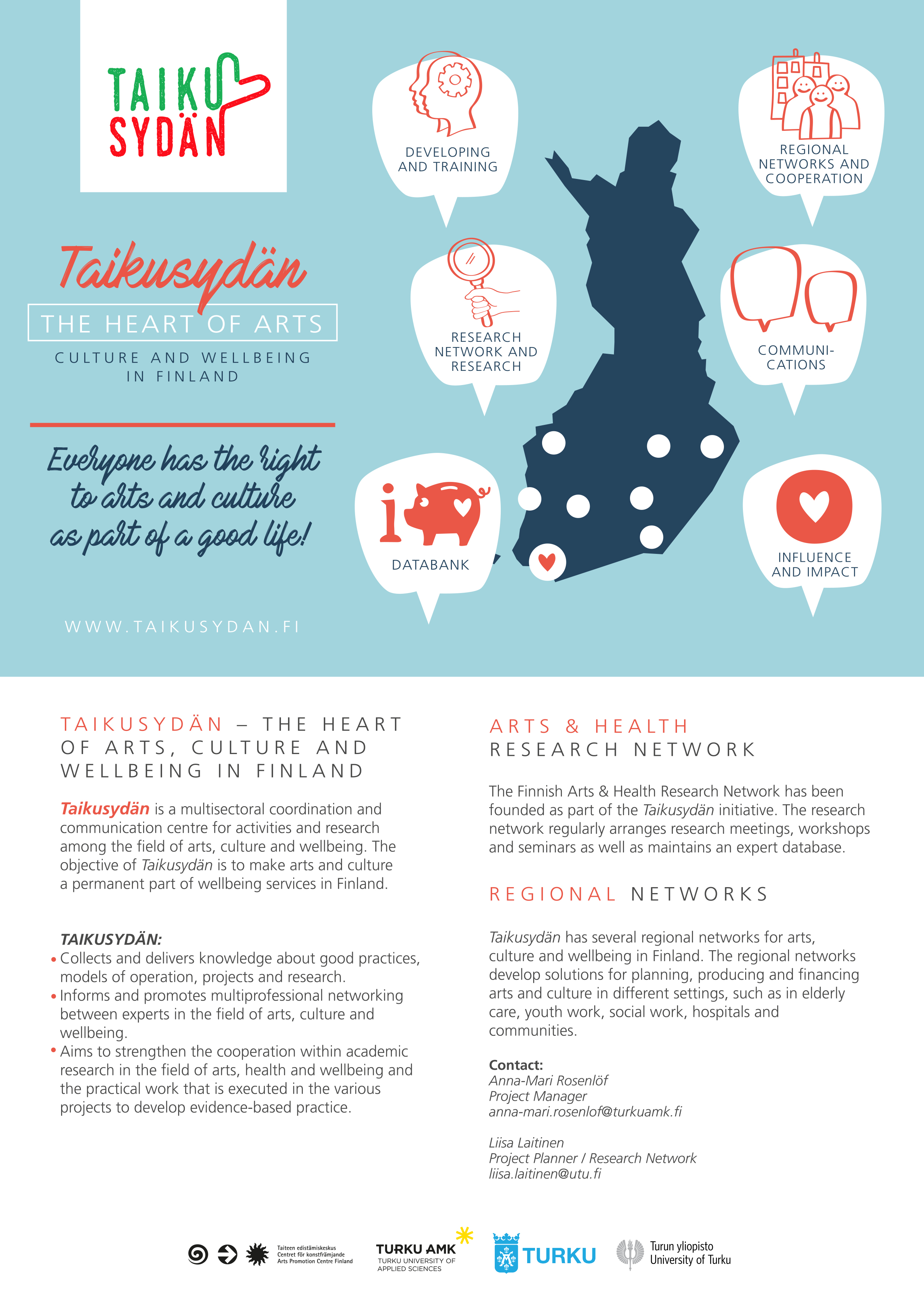 Download and print Taikusydän-brochure here.
The objective of Taikusydän is to integrate the arts and culture into mainstream health strategy and policy making. In addition, Taikusydän focuses on improving the working possibilities of professional artists and art institutions providing opportunities for artists to develop their practice.
Taikusydän also participates actively in the most important and challenging public reform in Finland's history: The Health, Social Services and Regional Government Reform. The reform is due to come into force on 1 January 2021. In the reform process Taikusydän with its networks has significant role in shaping the role of culture for promoting health and wellbeing in social and health care.
The Taikusydän project is administrated by Turku University of Applied Sciences. It is funded by the City of Turku, Arts Promotion Centre Finland and the University of Turku. Project activities are carried out with close cooperation with the organizations below:
The cities of Turku, Kuopio and Tampere
Research Center for Culture and Health in University of Turku
PiiPoo – Accessible Centre for Arts and Culture, Lempäälä (Tampere region)
Association Culture for Health (Terveyttä kulttuurista mielenterveysseura ry)
Regional Dance Centre in Western Finland
Arts & Health Research Network
The Finnish Arts & Health Research Network has been founded as part of the Taikusydän initiative. The research network regularly arranges research meetings, workshops and seminars as well as maintains an expert database. During 2018 Taikusydän has taken initiative to create a network of Nordic researches together with Danish, Norwegian and Swedish collaborators. Read more here.
Regional networks
Taikusydän has nine regional networks for arts, culture and wellbeing in Finland. The regional networks develop solutions for planning, producing and financing arts and culture in different settings, such as in elderly care, youth work, social work, hospitals and communities. Each regional network has a local contact person who coordinates the operation of the regional network.
Arts, health & wellbeing in Finland – find out more!
ArtsEqual
The ArtsEqual research initiative, coordinated by the University of the Arts Helsinki, examines the arts as public service, with equality as the starting point, and explores how the arts can meet the social challenges of the 2020s. The intitiative is financed by the Academy of Finland's Strategic Research Council. Find out more about ArtsEqual.
Contact: