Taikusydän is a multisectoral coordination and communication center for activities and research among the broad field of arts, culture and well-being. Its aim is to make arts and culture a permanent part of well-being services.
Taikusydän encourages different actors to cooperate with each other. It launches a researchers´ network, joining together research in universities and other institutes. Taikusydän promotes proposals for actions suggested in the closing report of the national Art and Culture for Well-being programme 2010–2014. Development work is done to spread information about the best practices and knowledge as well as to develop new financing and operations models.
Taikusydän aims to build five regional networks for arts, culture and wellbeing in Finland by the end of the year 2018. The regional networks develop sustainable solutions for planning, producing and financing arts and culture in different settings, such as in hospitals, elderly care, schools and prisons.
The objective of Taikusydän is to integrate the arts and culture into mainstream health strategy and policy making. In addition, Taikusydän focuses on improving the working possibilities of professional artists and art institutions providing opportunities for artists to develop their practice.
The Taikusydän project is administrated by Turku University of Applied Sciences. It is funded by the City of Turku, Arts Promotion Centre Finland and the University of Turku. Project activities are carried out with close cooperation with the organizations below:
The cities of Turku, Kuopio and Tampere
Research Center for Culture and Health in University of Turku
The Well-being Know-how Center of Eastern Finland, The Well-being Power Plant (VOIMALA)
PiiPoo – Accessible Centre for Arts and Culture, Lempäälä (Tampere region)
Association Culture for Health (Terveyttä kulttuurista ry)
We are inviting all to participate in inspiring and open cooperation between different sectors to spread knowledge of the broad field of arts, health and culture!
Over recent years, there has been increasing recognition that arts and culture have an important part to play in improving the health and wellbeing of people. Several studies have shown that experiencing the arts and culture may increase a sense of wellbeing and transform the quality of life for both individuals and communities. The unique role of the arts promoting, for example, social welfare, community engagement, participation in civic life, and improving living environments has been acknowledged. Research evidence has been gained to show the effectiveness of arts interventions in hospitals and other healthcare settings. By supplementing medicine and care, the arts can improve the health and welfare of people who experience mental or physical health problems.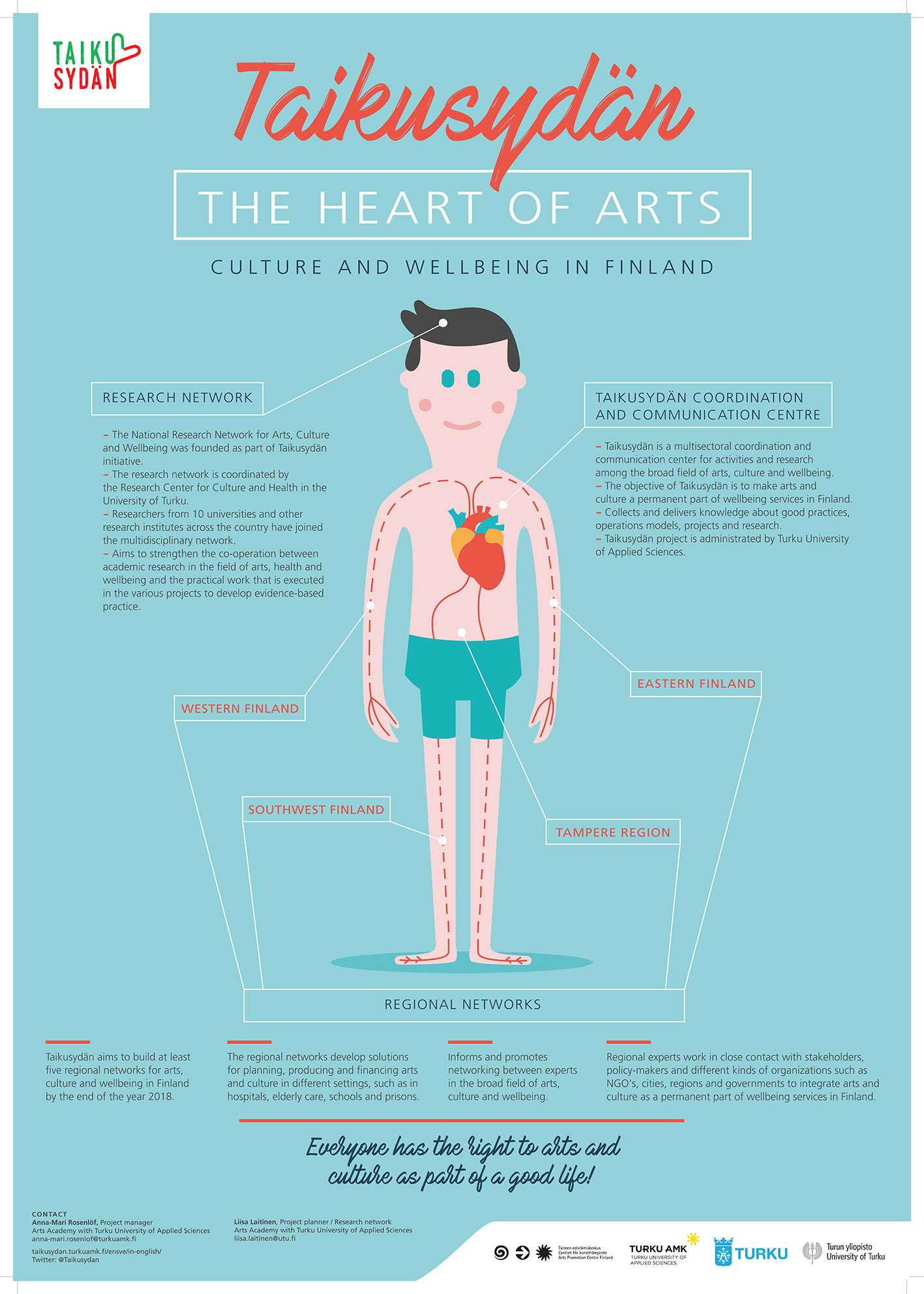 Contact: