Arts & Health Coordination Centre in Finland
Taikusydän is a multisectoral coordination centre and national network for arts, culture and well-being in Finland. We work towards connecting the people working  across this growing and diverse field.  The objective of Taikusydän is to make arts and culture a permanent part of well-being services in Finland. Taikusydän promotes proposals for actions suggested in the closing report of the national Art and Culture for Well-being programme 2010–2014.
Taikusydän in a nutshell:
Collects and delivers knowledge about good practices, models of operation, projects and research.
Informs and promotes multiprofessional collaboration at all levels between artists, arts professionals, health and social care professionals, educators, academics, policy-makers and public officers.
Aims to strengthen the cooperation within academic research in the field of arts, health and wellbeing and the practical work that is executed in the various projects to develop evidence-based practice.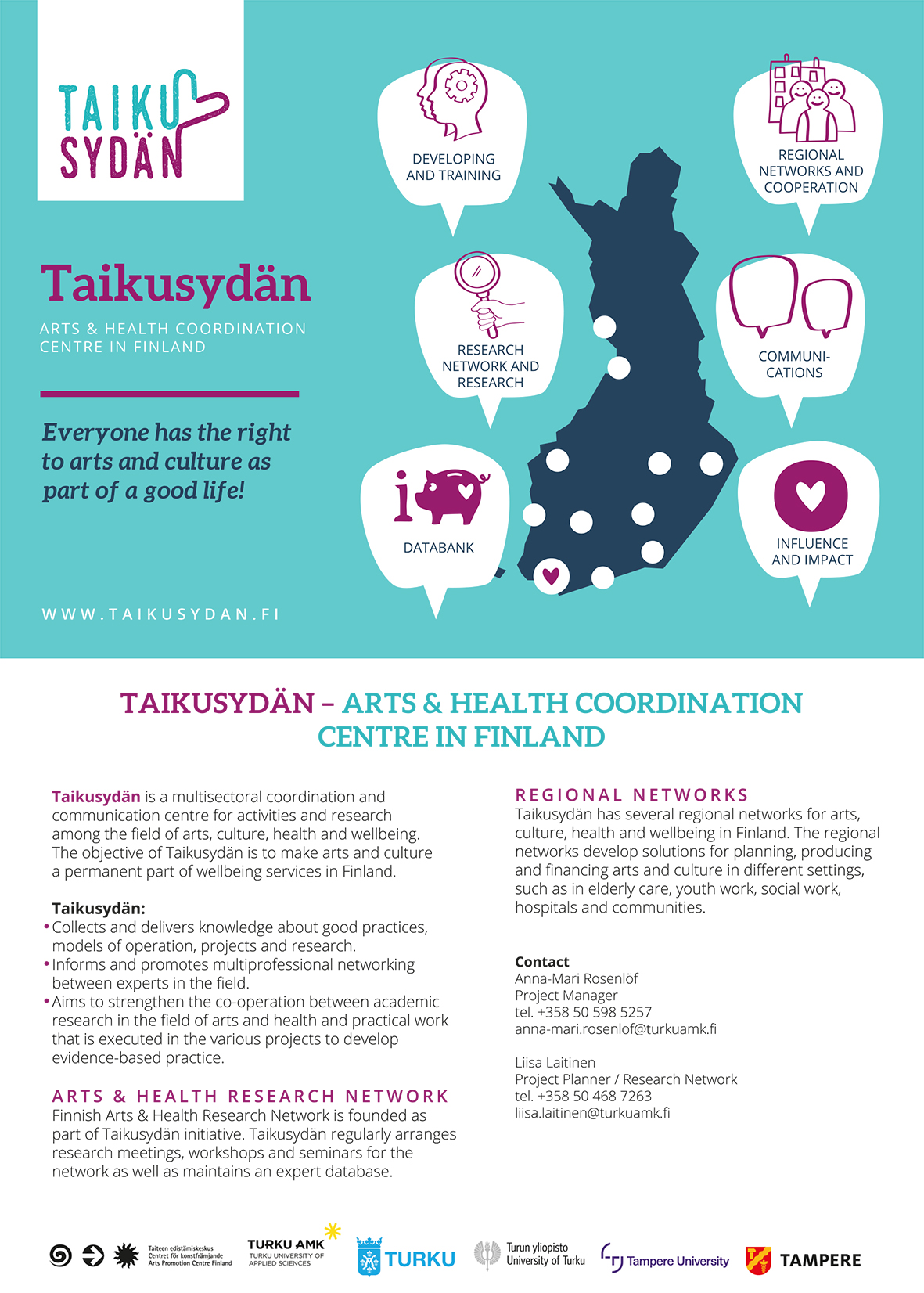 Download and print Taikusydän-hand out here.
---
The main activities of Taikusydän:
Compile and maintain a databank of information, publications, practices, projects, concepts, education and sound operational models related to the impact of art and culture on well-being
Communicate and deliver information on news, research, projects and operators by, for example, publishing a newsletter and being active on social media
Coordinate a national network of researchers, foster interdisciplinary discussions, and disseminate information about the arts & health research
Promote regional, national and Nordic cooperation
Bring arts, health and social care sectors together and build cooperation in order to distribute sound practices and develop new operational and funding models
Act as a development partner in various projects and work groups, organise seminars and workshops and develop the activities of an educator network related to the field of creative well-being
Influence decision-making and create greater understanding of arts and health
Taikusydän operates nationally through 14 regional networks in the area of 16 counties. The total number of counties in Finland is 18.
The objective of Taikusydän is to integrate the arts and culture into mainstream health and well-being strategies and policy making. In addition, Taikusydän focuses on improving the working possibilities of professional artists and art institutions providing opportunities for artists to develop their practice.
---
Partners
The Taikusydän project is administrated by Turku University of Applied Sciences. It is funded by the City of Turku, Arts Promotion Centre Finland, the University of Turku, City of Tampere and University of Tampere. Project activities are carried out with close cooperation with the organizations below:
The cities of Turku, Kuopio and Tampere
Research Center for Culture and Health in University of Turku
PiiPoo – Accessible Centre for Arts and Culture, Lempäälä (Tampere region)
Association Culture for Health (Terveyttä kulttuurista mielenterveysseura ry)
Regional Dance Centre in Western Finland
---
Arts & Health Research Network
The Finnish Arts & Health Research Network has been founded as part of the Taikusydän initiative. The research network regularly arranges research meetings, workshops and seminars as well as maintains an expert database. During 2018 Taikusydän has taken initiative to create a network of Nordic researches together with Danish, Norwegian and Swedish collaborators. Read more here.
---
Regional networks
Taikusydän has eleven regional networks for arts, culture and well-being in Finland. The regional networks develop solutions for planning, producing and financing arts and culture in different settings, such as in elderly care, youth work, social work, hospitals and communities. Each regional network has a local contact person who coordinates the operation of the regional network.
The regional networks include municipalities, cities, educational institutions, hospital districts, artists' associations, representatives of the social welfare and healthcare sector, third-sector operators, regional councils, art institutes and project representatives. Due to the substantial regional differences in organizing and implementing activities related to cultural well-being, the operations of the regional networks differ considerably.
Tasks of the regional networks:
sharing knowledge about arts, health and well-being and developing cooperation in their area
promoting long-term, multidisciplinary cooperation between professionals in the arts, social welfare, healthcare and educational sectors
identifying the strengths and development needs of the area
engaging the local key operators
bringing together people and organisations interested in arts, health and well-being
sharing experiences, expertise and best practices with their local operators and other regional networks.
---
Contact:
Anna-Mari Rosenlöf
Project manager
Arts Academy at Turku University of Applied Sciences
Puhelin:
+358 50 598 5257
Liisa Laitinen
Adviser, Arts & Health / Research Network
Arts Academy at Turku University of Applied Sciences
Picture: Pisamaart / Mari Villanen.
Last update 23.5.2019.